Journal

Dec 6, 2017
Peter Holmes and Neil MacDonald attended the Island Trust Council Quarterly Meeting. Specifically to sit in on the Transport Canada presentation on the Ocean Protection Plan. Lorraine Gill, Manager, OPP engagement, South Coast, Transport Canada presented an Overview of the OPP and
Vija Poruks, Project Manager, OPP engagement, South Coast, Transport Canada presented an Overview of national anchorage initiatives.
Below are the PowerPoint presentations
Overview of the OPP

Pacific Anchorages
Nov 9, 2017
Annual General Meeting is held and Peter Holmes, Neil MacDonald, Dan Daigle, Denis McDonald and Gailann Squires were nominated and unanimously approved for another term as directors.

Nov 2, 2017
Peter attends Oceans Protection Plan South Coast Dialogue Forum in Vancouver at Transport Canada's invitation.
Where he met key policy makers on these issues. Transport Canada is running this and has allocated a TC official (Vija Poruks) to the anchorages file specifically. There were 120 participants of 8 at a table where discussions took place after each of 6 topics was presented of 50+ topics to review. This process is slated for a 5 year term. We are at the table for those that we are interested in.



Oct 24, 2017
Received a response from Marc Garneau in regards to our OPP Position Paper.
Response from Garneau
Aug 25, 2017
In preparation for the upcoming development process of the OPP, we have prepared this document for discussion with suggestions for consideration.
It has been sent to the Prime Minister and the Minister of Transport.
OPP Position Paper
July 26, 2017
From South Pender Island - a resident sent an letter to Marc Garneau regarding an incident in Plumper Sound - following are the letter and the response.
Letter to Garneau
Response from Garneau
July 11, 2017
One of our members on Cherry Point Road has had this view, light and noise for the last 5 days.

July 9, 2017
One of our Arbutus Ridge members took these photos which show how close this freighter is to 646 residences.

July 6, 2017
Today at 5:30 AM the Orange Tiger arrived and proceeded to drop its anchor. It was a little early for the residents to be out and about and so we are offering for viewing two videos, with sound, of the SM Tiger dropping anchor June 21, 2017. The sound is equivalent to the Orange Tiger.

July 3, 2017
Cemtex Honor washing their deck in Cowichan Bay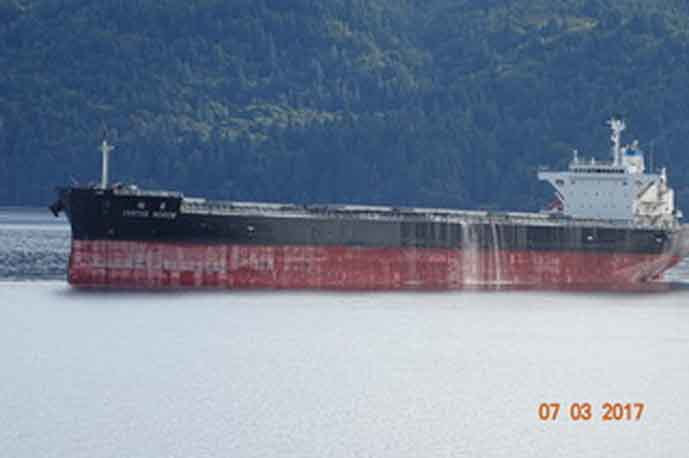 June 26, 2017
How to sleep with Capesize ships in Cowichan Bay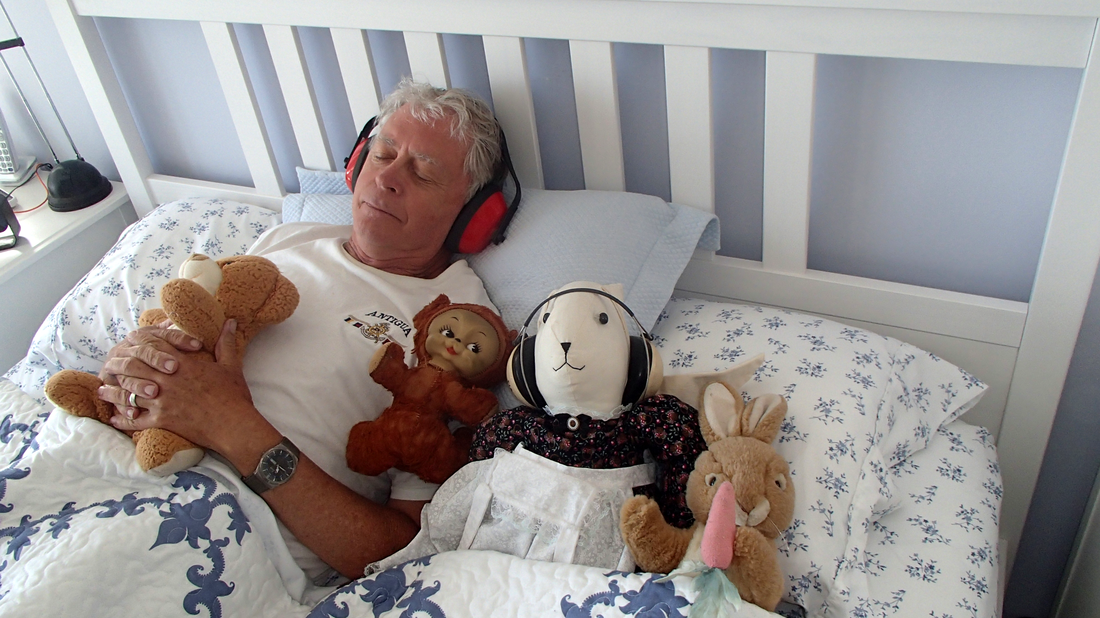 June 21, 2017
Notice the rust coming off the SM Tiger's anchor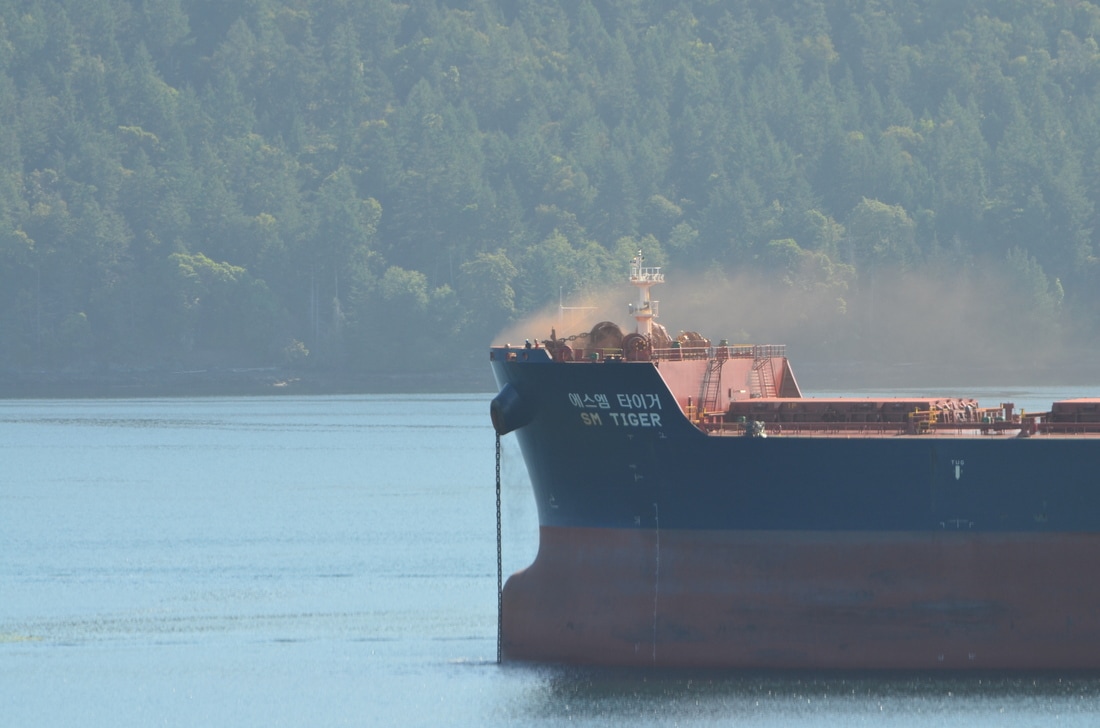 June 13, 2017
Receive a copy of a letter that Alistair MacGregor, our Federal MP, sent to the Minister of Transport, The Honourable Marc Garneau.
This letter deals with his constituents concerns with anchorages in Cowichan Bay and the Southern Gulf Islands. Our society is specifically mentioned in the letter as representing the interests of concerned residents.
Click on the following link to read the entire letter
Alistair MacGregor's letter
June 7, 2017
Peter, Mike and Neil gave a presentation to about 60 or 70 members of the ARRA (Arbutus Ridge Ratepayers Association) at Arbutus Ridge.
Valarie Crossley and Dr. Graham Fishburne were the hosts for the evening. The 45 minute presentation was followed by very lively 30 minute
Q & A .

May 9, 2017
Peter and Neil met with Valarie Crossley and Dr. Graham Fishburne of ARRA (Arbutus Ridge Ratepayers Association) at Arbutus Ridge.
The outcome was that we will be doing a presentation to the Arbutus community on either June 6 or 7th.

May 5, 2017
Robert Lewis-Manning met with the directors at our President's residence. It was a very informative meeting with some potential outcomes which we
hope come to fruition in the very near future. More to come.

Apr 23, 2017
The Hanjin Scarlet is into its third visit to a Cowichan Bay anchorage. As you may know the Hanjin shipping company, the 7th largest shipping company has filed for bankruptcy protection. Canadian federal court records show four pending cases against the Scarlet, brought by Singamas Petroleum, Prince Rupert Port Authority, Pacific Pilotage Authority Canada and DP World Prince Rupert. Until these issues have been resolved the Scarlet will remain in ours or one of the other southern gulf island anchorages. In its first visit it stayed 36 days, second visit 34 days and it's now into its 8th day of its third visit for a total of 78 days. It also spend 84 days anchored in Plumper Sound before it was directed here. While we recognize that this is a unique situation we would also hope that it would be time to reposition it to another anchorage. We are now approaching the same time as its stay in Plumper Sound and perhaps its time to move on to another anchorage other than Plumper Sound or Cowichan Bay. A picture of the Hanjin Scarlet is below which was taken by one of our members from his residence.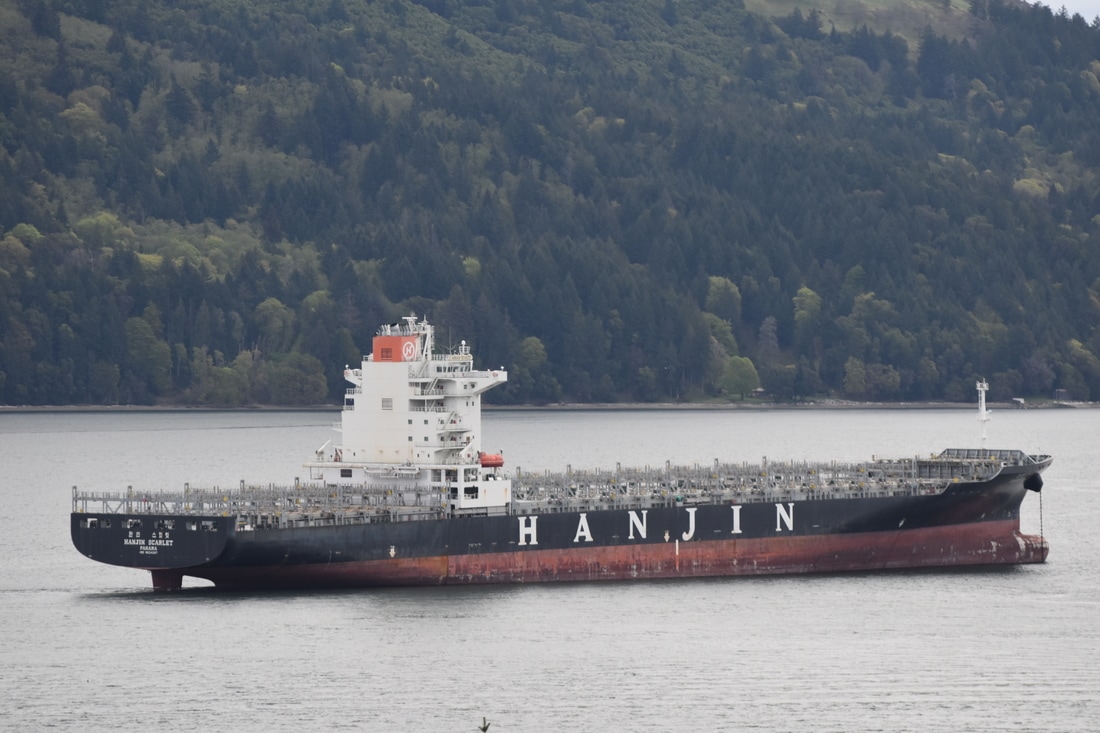 Apr 18, 2017
Peter and Neil attended a Anchorages Roundtable Discussion in Victoria host by the CEO of the BC Chamber of Shipping, Robert Lewis-Manning.
Also in attendance Duncan Wilson, Vancouver Fraser Port Authority; Lance Fridfinnson, Colley West Shipping; Ed Dahlgren, Nanaimo Port Authority; David Howe, Capital Regional District; Chris Straw, Gabriolans Against Freighter Anchorages; Peter Luckham, Islands Trust; Bruce McConchie, Islands Trust; Laura Busheikin, Islands Trust ; Heather O'Sullivan, Islands Trust; Howard Houle, Regional District of Nanaimo; Bonnie Gee, Chamber of Shipping of BC; Dave Hill, Wheelhouse Shipping. A very lively discussion ensued which covered a presentation by the Chamber of Shipping, Discussion of Opportunities, Challenges and Potential Activities and followed by a discussion of the next steps to come. The minutes will be posted once they are issued.

Mar 17, 2017
Peter, Paul and Neil met with Alastair MacGregor, our NDP Federal MP, at his invitation. Alastair had attended our meeting with
Transport Canada Marine Safety Advisor, the CEO of the BC Chamber Shipping and the CEO of Pacific Pilotage Authority in March 2015.
Alistair had a good recollection of our work and our mandate. We provided an update on the current situation along with several questions and concerns.
He agreed to have his office and colleagues provide assistance in working to obtain some answers for us concerning PMV shipping practises and indicated that he is willing to support our cause.


Mar 16, 2017
Peter, Mike and Neil attended the SIPS (Saanich Inlet Protection Society) Roundtable meeting. It was a very large group of at least 80 people
where Elizabeth May, Green Party MP, and Alistair MacGregor NDP MP talked about preservation of our waters. Our presentation was delivered
by Mike Waites with our PowerPoint shortened to fifteen minutes as an introduction to our work. The presentation was well received
and during the break Elizabeth May, followed by a member of a First Nations representative of three tribes present, chatted with us
and expressed their appreciation of our cause .

Prior to the SIPS roundtable we lunch with Richard Lake, one of our members from North Saanich. Richard is a member of SIPS and also chairs
two other groups in North Saanich. He informed us of several items which we have explored. Of these, one of great interest to us is that
of the Port of Newcastle, New South Wales, and their method of shipping management, whereby they allow vessels only to come to port 48 hours prior to picking up their cargo.


Feb 22, 2017
Peter and Neil travelled to Nanaimo to meet with GAFA (Gabriolans Against Freighter Anchorages) directors Chris Straw and Pam Fullerton, along with member Ted Fullerton, Ted works on data collection and analysis for the membership. The meeting lasted a couple of hours in which we shared information and strategies. We parted with the understanding that we would keep the information pipeline open between us.